Hardware Tycoon
Hi,
0.2.9 is finally out and playable on itch.io. This is probably the biggest update yet. Hope you guys like it!
Please note that older saves will not work with this update!
Things have changed quite significantly from the beta, so I'll be going through every change once more.
High-budget teaser:
What's new?
Main menu
It provides all important links, a quick way to go full screen, and a better way to load the game. Additionally, it allowed me to declutter the company creation screen.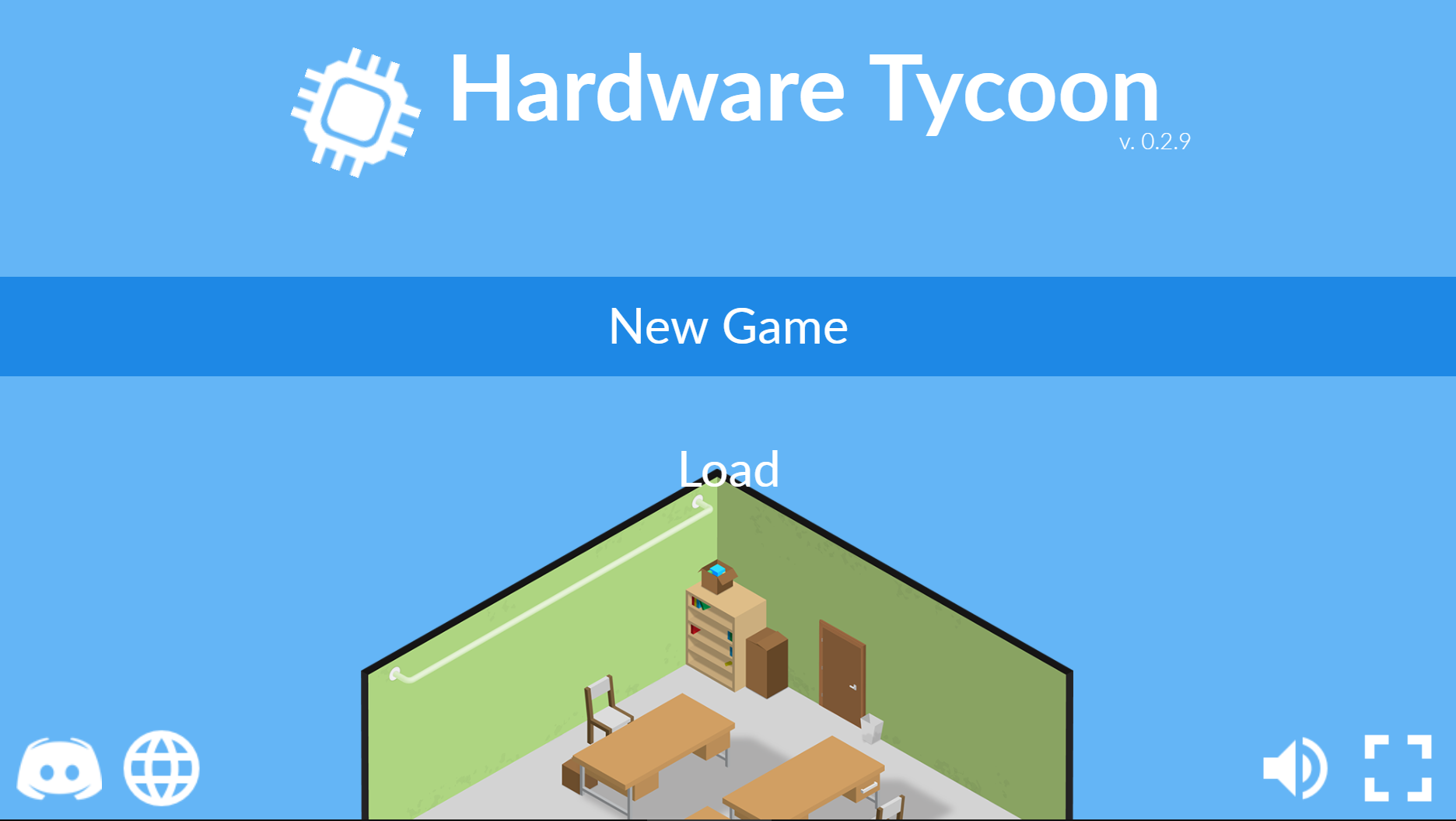 Custom company logos
Hooray, customization! It's a rather simple editor, but it gets the job done. Creating a logo is optional, but if you decide to do it, you'll see it in every piece of news related to your company.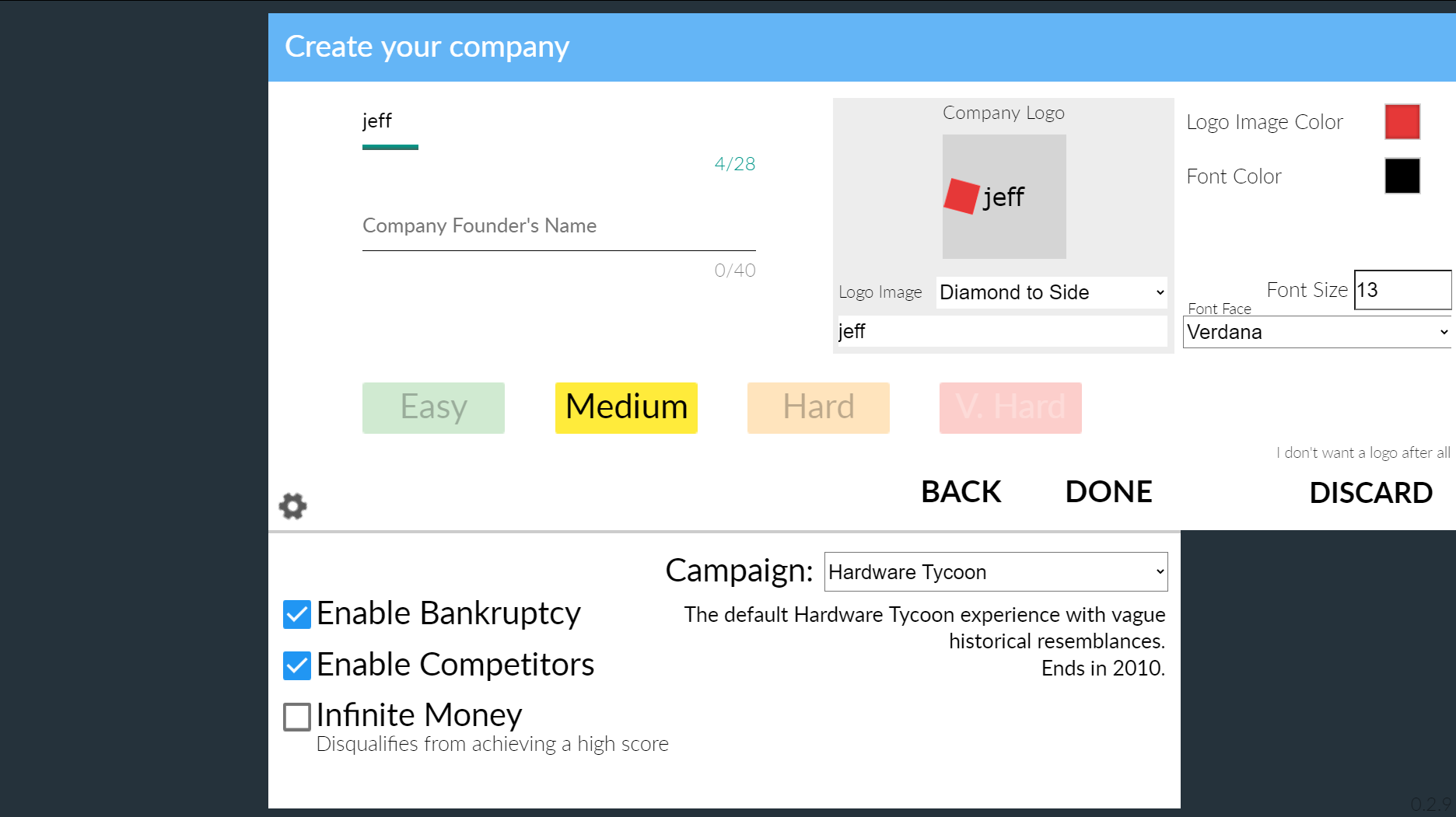 Game settings
Besides choosing a campaign, you will be also able to start a game with an infinite amount of money, disable competitors, and disable bankruptcy. Keep in mind that these settings have an impact on your high score!
To elaborate: disabling bankruptcy reduces your high score by 13% and starting with infinite money reduces it by 98%.
Technological processes selection
A lot of things were rebalanced, shaking up the flow of the game a little. Tech processes now have minimum and maximum clock speeds, which can hinder your progress if you don't pay attention.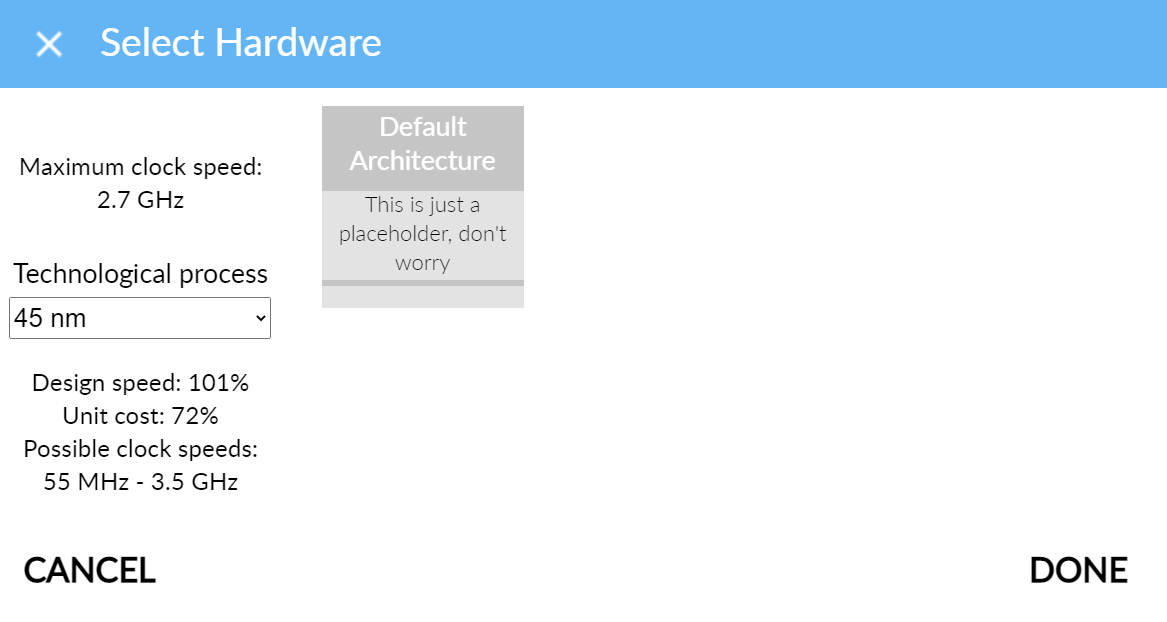 Bankruptcy
For the first time, you can genuinely lose the game. Being in the red for 4 months in a row will mark an end to your company. The accompanying news article will let you know how well you've done up until that point. (Also a good example of custom company logos!)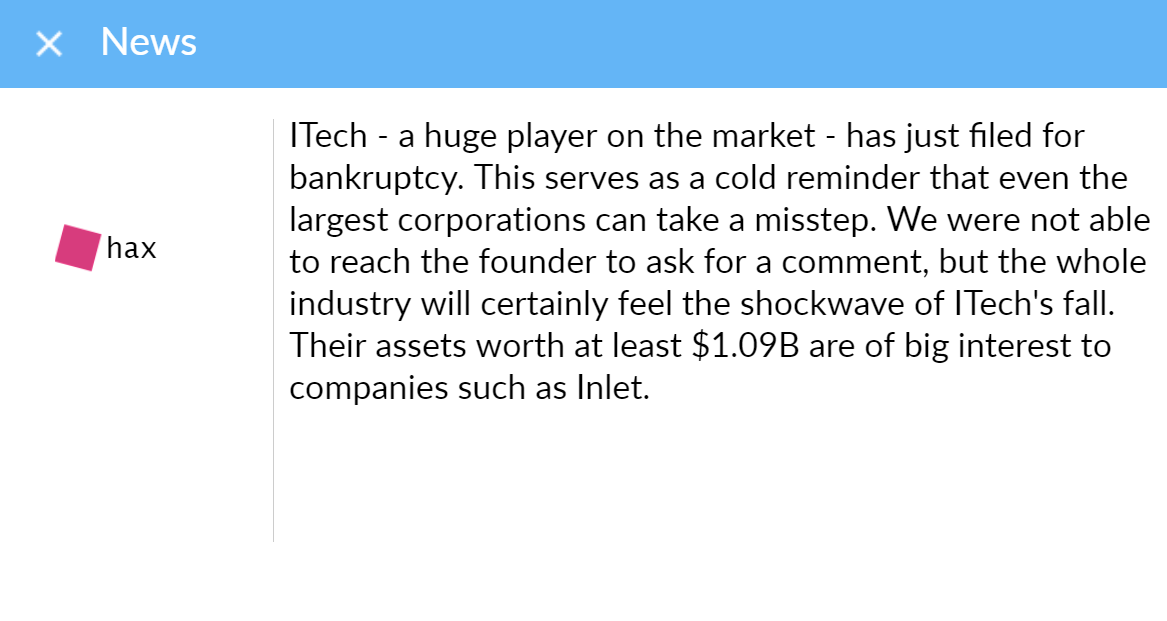 Multiple campaigns
Or just two for the time being. Besides the improved 'classic' one, there's now an alternative campaign available for you to play. You'll be able to compete against brand new companies.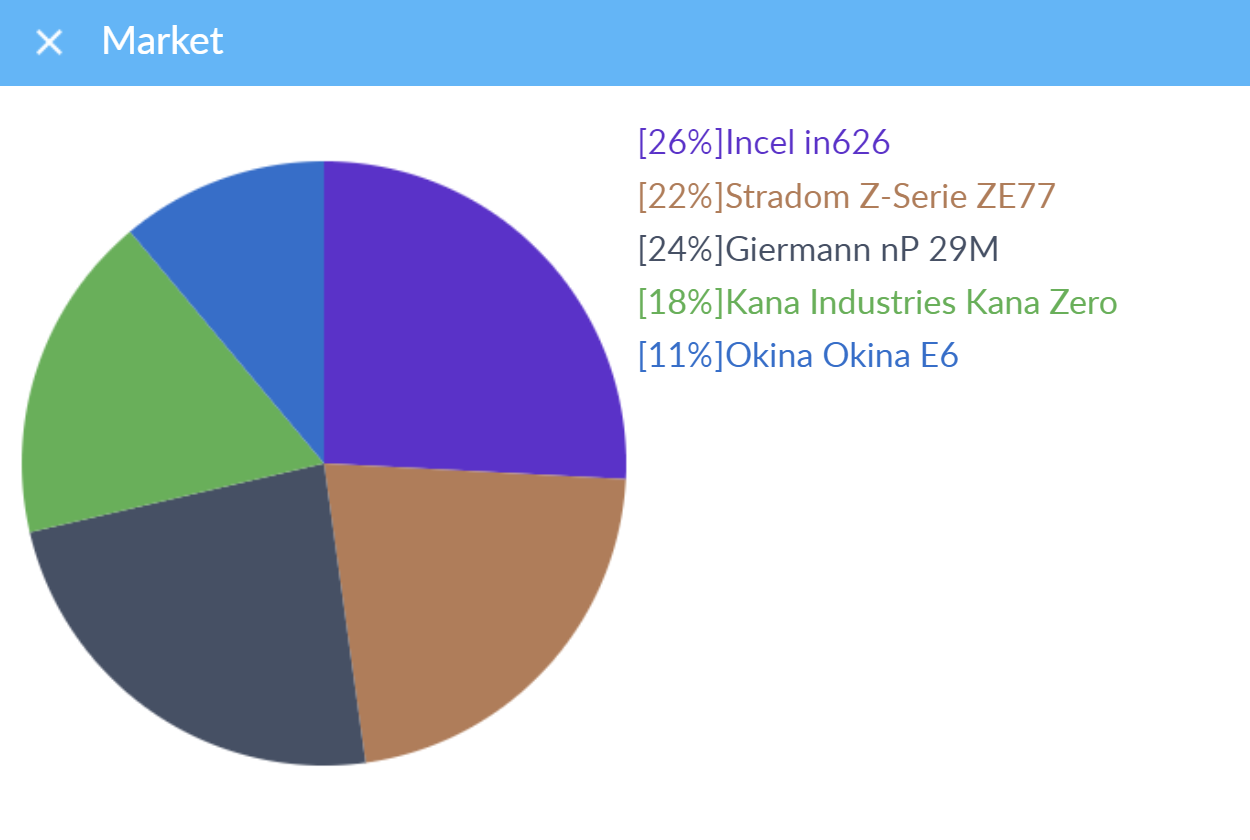 Improved review window
Also includes a fancy typing effect now!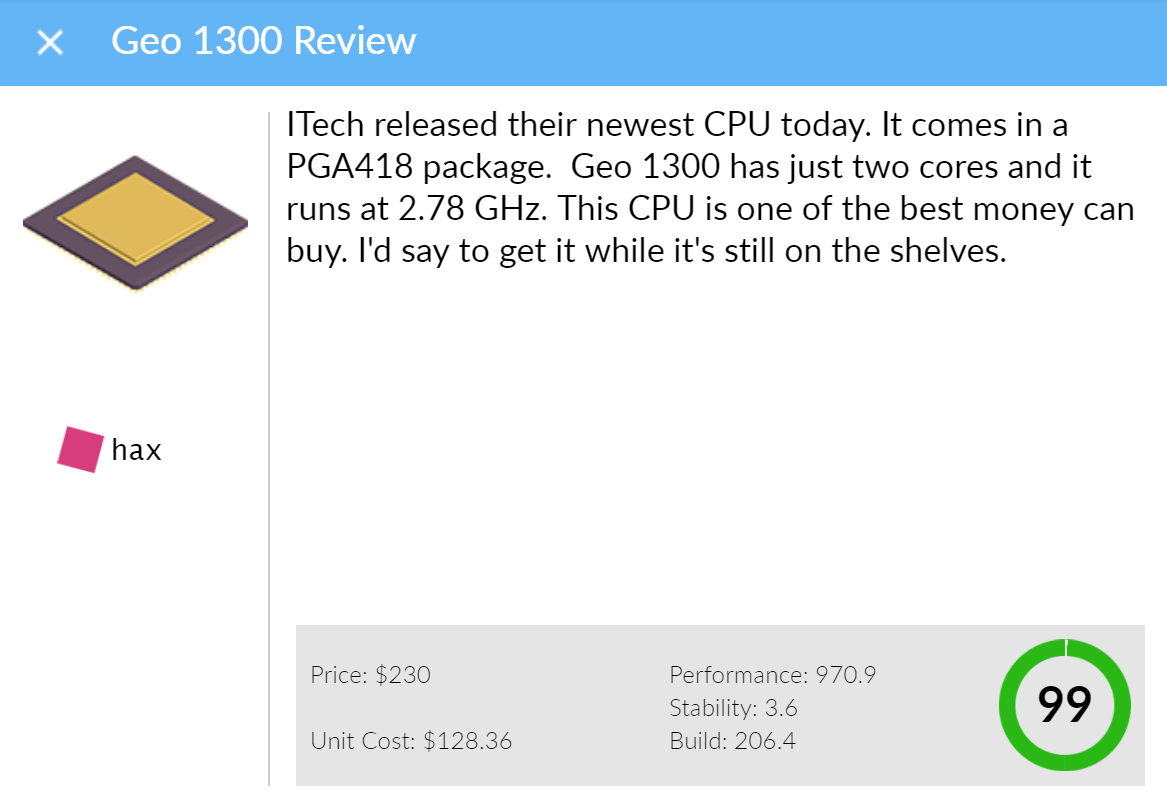 Clock speeds up to 2.7 GHz
13 new clock speed research, 5 new PGA sockets, a 45 nm tech process, and 9 new competitor CPUs (or 63 if you count the new campaign)! The game ends in 2010 now, making for a 40-year long journey total.

Bank redesign
Hopefully, it's much less confusing and neater now. There's not much in the taxes tab just yet, but I do have plans for it.

Random CPU names
Were you ever stuck, unable to think of a good name for your CPU? This handy button can help!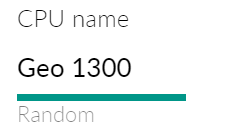 Custom theme colors (experimental)
This feature still needs quite a lot of polishing, but when it's done, you'll be able to set the color of all UI elements to your liking. For example, typing

func Set Theme Color;-8;100;120;-8;95;130;-8;88;140;-8;50;140;-8;50;60;-8;90;60;-8;100;70

into the console will result in this: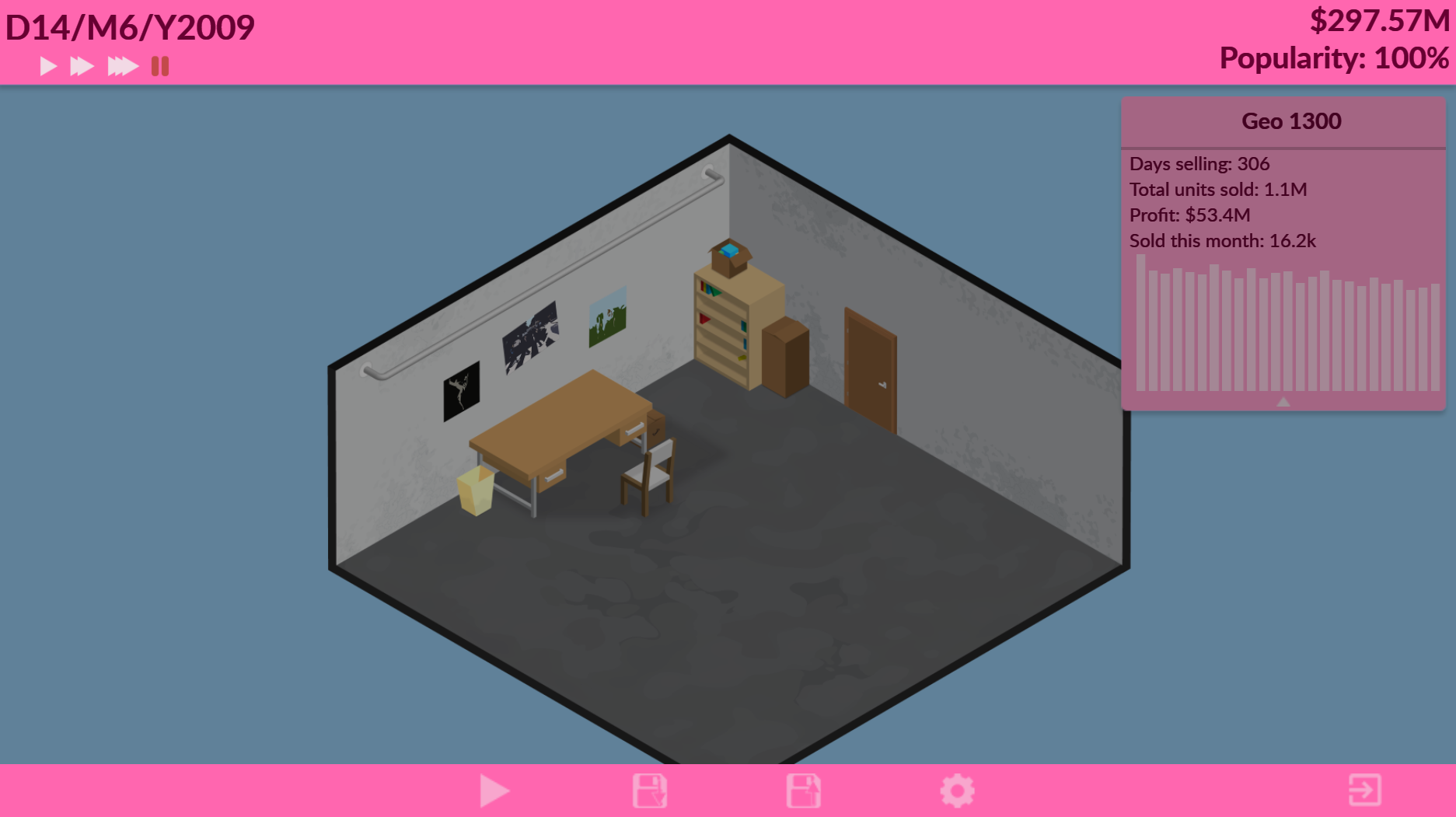 You can also try playing with a dark mode with this command:

func Set Theme Color;Dark
It's far from perfect (hence the "experimental"!), so if you want to revert it, use:


func Set Theme Color;Default

Sound effects
You will be notified with a distinct sound cue after research has finished, your CPU went off-market, or if you don't have enough money to perform an action. Credits for these and the main menu tune to Thes_Gunslingers!
And tons of other features, tweaks, and fixes. As always, the full changelog can be found on the wiki.
The mod tool has received an update too, read this page if you are interested in creating mods for the game!

What's next?
I want the next update to be 0.3 and add CPU architectures, redo the bank properly, change the way the market behaves, and expand on some things from this update. No clue what or when will come out of that.
I'll also be working on bringing the wiki up to date and making it more informative.
That's it from me, enjoy your playthrough! You can share your experiences on our Discord server.
Thank you for your continuous support, despite the seldom updates; and once again thank you to everyone who actively participated in beta tests for this version <3