Hardware Tycoon
In the last devlog, I mentioned an exciting future for the website. I'm happy to announce that the future is here - you can now make your own Hardware Tycoon account!
The website works but is not 100% complete, there is still a bit of work to do on the features that are in place. The experience is still subpar on mobile devices, so that's what I'll be trying to improve now.

Current features
User profiles
With descriptions that you can customize using markdown and a list of all your mods and mods that you've interacted with.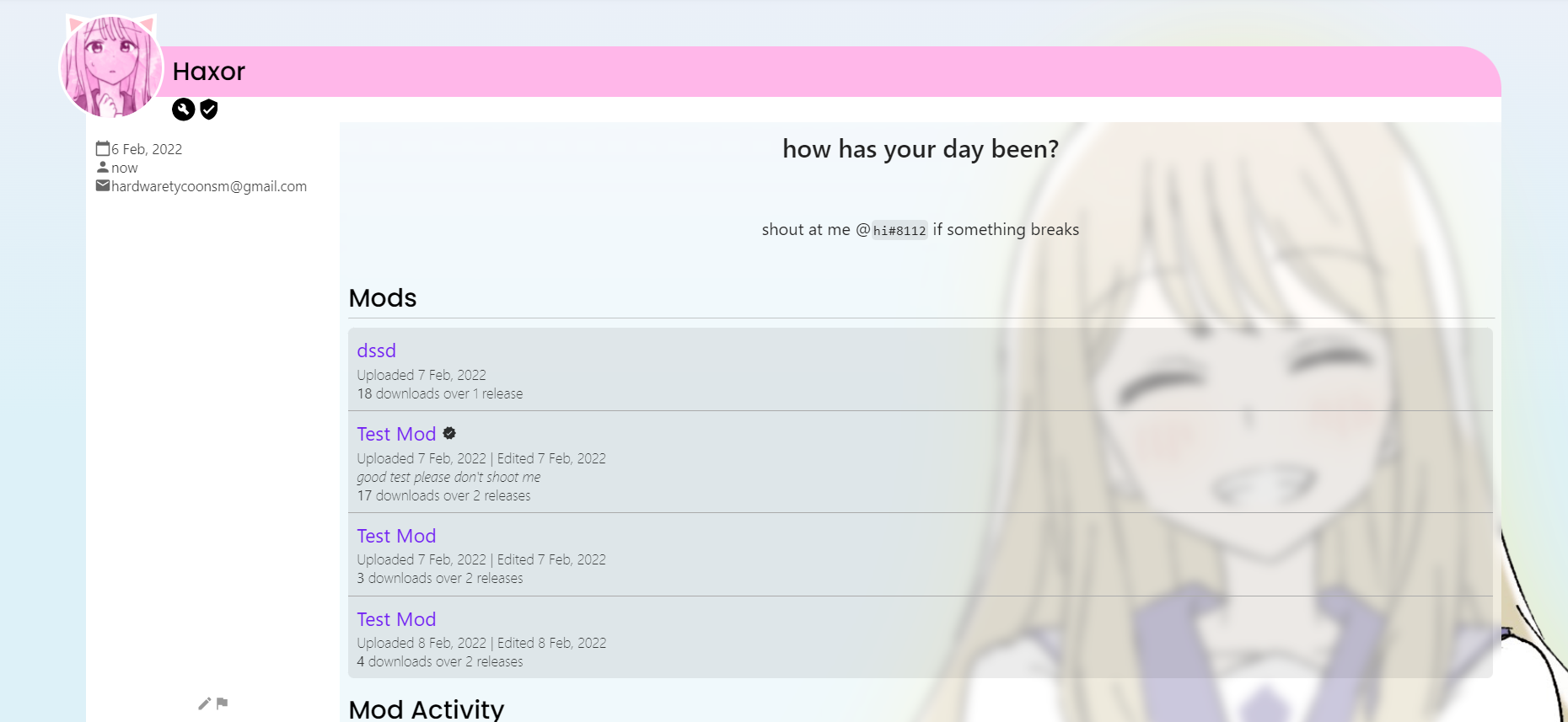 Mod browser
With filtering and sorting. A much better experience than anything before it.
I might redo this page in the future to allow for mod icons, short descriptions, and quicker downloads.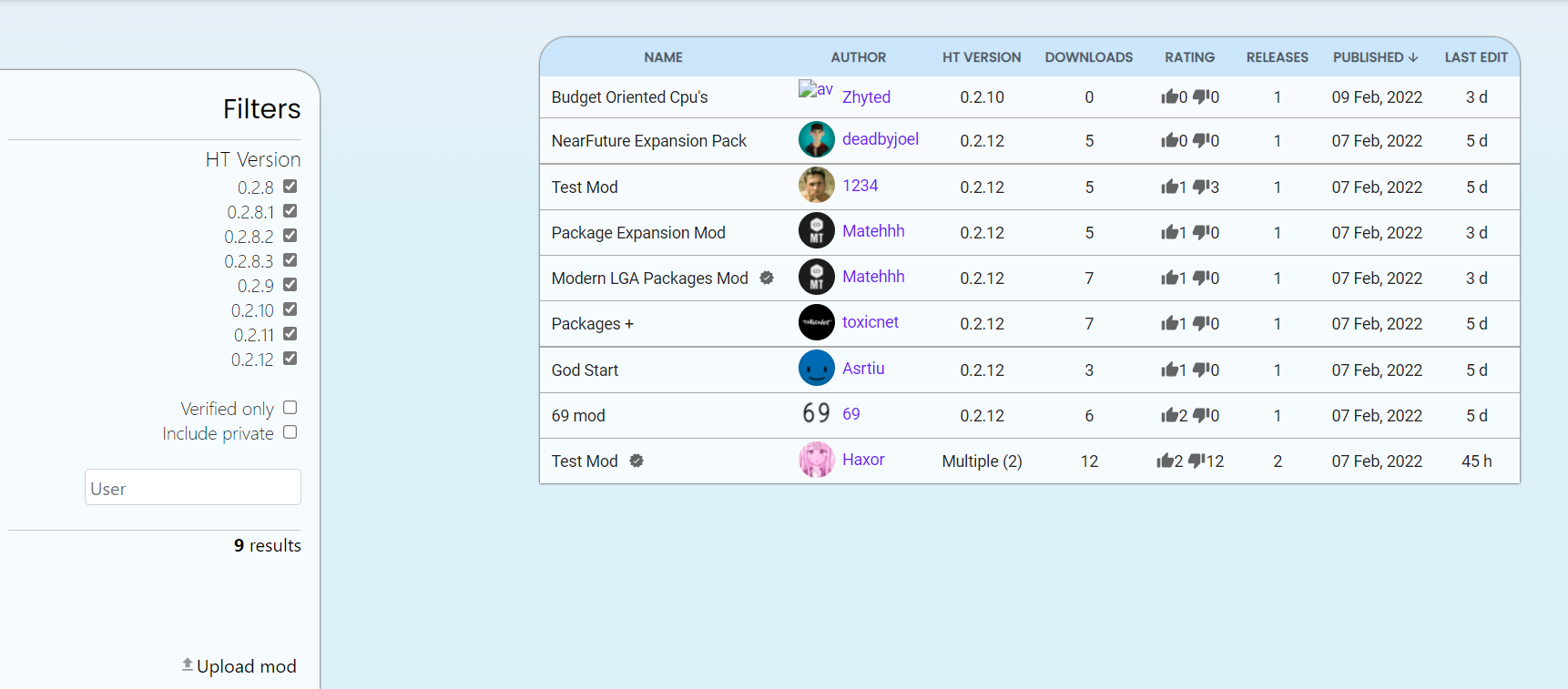 Donation page
With a pretty slider that dynamically shows the perks you'd receive for the given amount.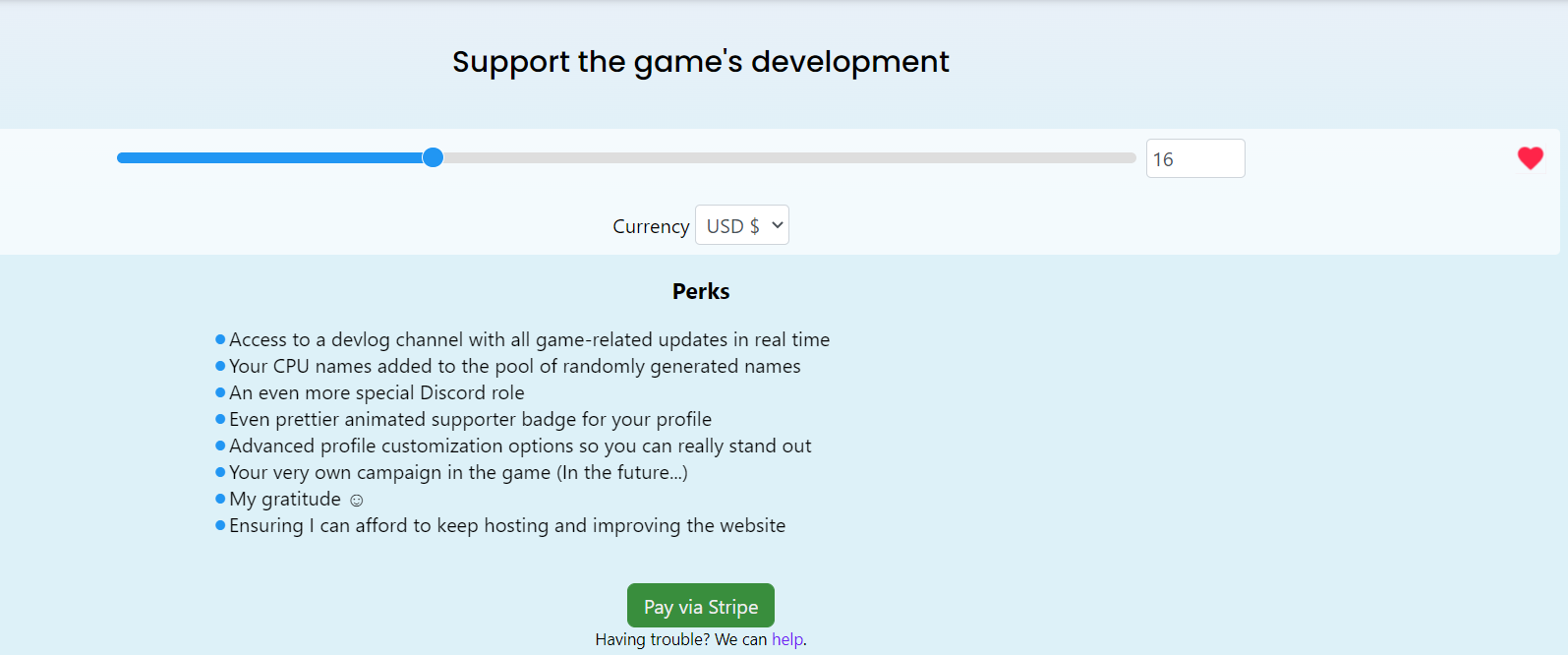 I made one mostly to avoid the ~50% tax I must bear on donations via itch.io (and it's not itch's fault!)

There are two tiers - a $2 one (to discourage small payments, since most of them go to the payment provider anyway) and a $15 one with new perks. Of course, the perks work backward, so if you've donated previously, let me know!
There's also a nicer help section with the F.A.Q. (woohoo)
Planned features
Mod comments
Online trivia quiz
Donation page PayPal integration
User profile and mod flagging
Leaderboard scores assigned to users & integration with the game
Well, I'm off to polishing the website up. See you in an update devlog about Hardware Tycoon 0.3 🤞
Comments
Log in with itch.io to leave a comment.
I can't open the app on MacOS Montery. Any fix?
Hi,
There's a step-by-step guide linked on the wiki.

Haxor I advise you to use motherboards as second hardware because sometimes your own CPUs have their own motherboard ;)
Can you make a android version i would really like that and appreciate it
Hi,
My stance on a mobile version is in the 10th point of the FAQ.
I was wondering if you were adding an apk download is what I meant
but thank you for replying that also helps answer my question
I would also like to say there is a version a saw on android someone took pictures of your game and posted it as their own I hope you look into it so you can take down the faker
Thanks, I know of the app and apparently, it doesn't even work. The community has reported it many times but it's still there :/
This game is the best it looks and feels like a real 20$ game already can't wait for version .3! (Also have you considered putting the game on steam? with a game this good me and lots of other would buy it.)
Hi, thank you for the kind words!
The FAQ says:
Will Hardware Tycoon ever cost money/come out on Steam/Epic Store/etc.?
I wouldn't count on it. Hardware Tycoon isn't anywhere near the point where I would be happy to charge people for it. (Yet.)
i love this game already. i have gone bankrupt in my first 3 runs but it is so unique and stressful and i can't wait for you and your team to add more!!!
so hooked, just sat an played for 3 hours straight, fully finished the game, can't wait for the new update, keep up the great work!
I just wanted to say, I ended up enjoying this game. I'm really excited for update 0.3 because I feel like it'll add more enjoyment to the game after whatever year R&D stops happening. I started playing when I was in class and I needed some sort of browser game to play. I ended up going on itch.io and started browser and put in HTML5 and Tycoon into the Tag Search, and this was one of the first games that popped up. When I clicked on it and started playing it, I couldn't stop. I ended up playing the game at home after school. I want to say that this is the only true Tycoon, and only Great Tycoon I could play on itch.io.
I'm also going add that I'm trying myself to program myself and have a Macbook Pro Mid-2012 and if you needed to make I team, I'm avaliable.
Overall I really enjoyed the game.