Hardware Tycoon
What will the next version of Hardware Tycoon look like?
---
Hello,
It's been 100 days since the last devlog, and for this occasion I'll be giving you a long-deserved update on the project.
First of all, Hardware Tycoon has not been cancelled, but I can't hide the fact that I've been working on it less than I would've liked to. You don't want to hear my excuses. Yes - this means that there wasn't much progress made throughout these 100 days.

Secondly, the next version of Hardware Tycoon probably won't be a larger update like you'd want 0.2.9 to be. For this reason I will mark it as 0.2.8.1. It's not set in stone, so it's still possible that this will grow into a full-fledged update.
At the time of writing this, my plans include:
Ending to the game - counting a final score
7 new sockets, clock speeds up to 60 MHz and 6 new CPUs
Balancing, namely to price and clocks
Visual tweaks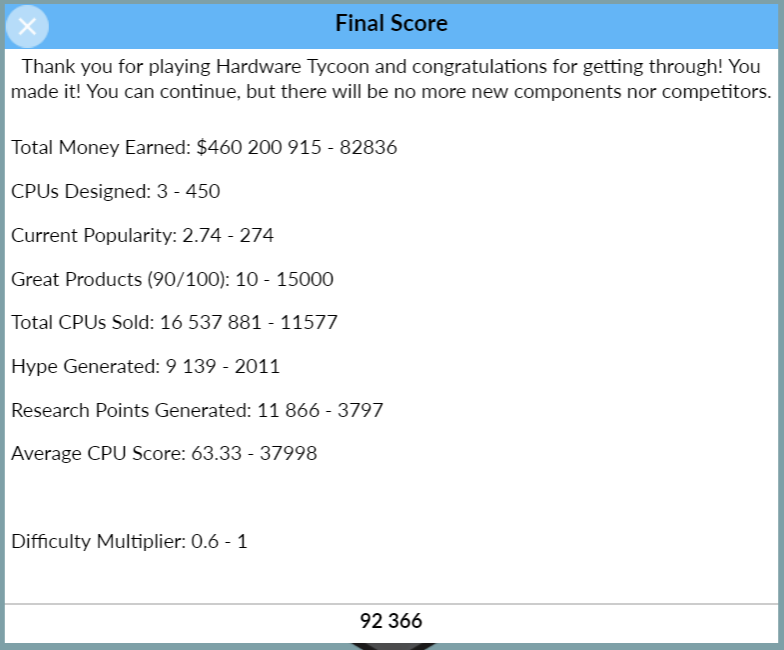 Just a preview

ETA: this decade
Lastly, I gave up on the idea of making a video comparison of 0.2 and 0.2.8 to celebrate 100k views. I wasn't able to make it entertaining, besides It's a little late now...
I think that's all there is to say. I'm sorry for not being active, I hope this won't happen again.
Thank you for sticking around despite this, see you in 2020!